Rev. Christopher Frazer
Pastor
fatherchrisfrazer@frontier.com
a few words from Father Chris . . .
It is a great pleasure for me to serve as your new pastor!  In order to help you get to know me better, I would like to share a few things about myself.        
I was born in Santa Clara, although my family moved to Lincoln at the start of third grade, and after two years we moved one final time to Roseville.  My father worked at Hewlett Packard as a software developer.  My mother mostly spent her time looking after the home, but did also work as a secretary for a small office.
I am a middle child.  My older brother is six years ahead of me.  He currently works in the field of communications with the US Army.  My younger brother is about nine years behind me.  He currently works in the medical field helping to test and approve new medicines.
I attended a local elementary school, followed by high school at Jesuit.  It was here that I first began actively discerning my vocation to the priesthood.  At the same time, I was active in my local parish, St. Rose of Lima, in Roseville first as an altar server and later as a lector. 
I entered seminary directly after High School.  I earned a degree in philosophy from Mt. Angel Seminary, and then a master of divinity from the University of St. Thomas Aquinas (the Angelicum).  After eight years of theological studies and one year with a pastoral assignment in South Sacramento, I was ordained a priest in 2007.
Since then I have served as a parochial vicar in Chico, Folsom and Woodland before serving as Pastor in Lake Almanor and Grass Valley.  I recently celebrated my 12th year of priesthood.
I look forward to learning more about Good Shepherd Parish and getting to know all of you!  I also thank you all for your very warm welcome as I came aboard.
Rev. Julius Kiogora Kaburu
Parochial Vicar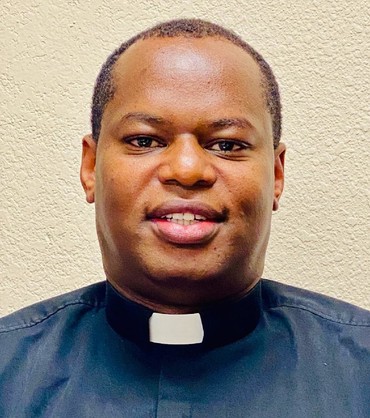 Father Julius Kiogora Kaburu was born on March 1,1980 at Mikumbune Parish, Meru County, Catholic Diocese of Meru, Kenya. He is the eldest child in his family and has two brothers and one sister.
On June 20, 1993, when he was in sixth grade, he attended the ordination for Fr. Simon Kithinji at St. Pius X Seminary in Nkubu. The ceremony was very colorful and it influenced his decision to become a priest. He considered the event to be the turning point in his life.
After high school, he joined the Mary's Molo Seminary for priesthood formation. Later, he joined Christ The King Seminary in Nyeri, Kenya, where he studied  philosophy and theology. He did his pastoral work at Cathedral Parish, St. Daniel Boys High School and St. Mary's Antubetwe Parish.
Father Julius was ordained a Roman Catholic Deacon on June 5, 2010, and a Roman Catholic Priest on December 18, 2016.
Prior to coming Good Shepherd, he served as Parochial Vicar at St. Joseph Parish in Lincoln and three parishes in his native Kenya.
He is very happy to be working in our parish as the Parochial Vicar serving the people of God, spreading the gospel to all the corners of the world, as our Lord Jesus Christ mandates.
He thanks his Bishop Rt. Rev. Salesius Mugambi and Bishop Rt. Rev. Jaime Soto, for the opportunity to serve the people of Good Shepherd Parish .