Rev. Michael Vaughan
Pastor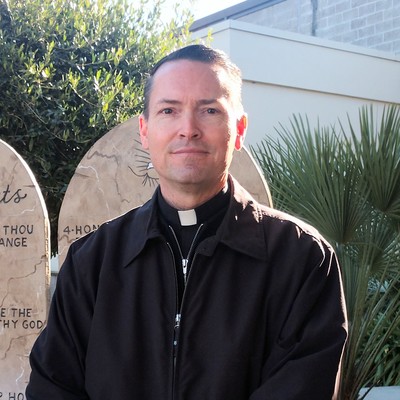 fathermichaelvaughan@gmail.com
Allow me to present myself.  My name is Fr. Michael Vaughan and am a convert to the Catholic Faith.  I was born in Newport Beach, CA in 1969.  I moved to Lodi for elementary school, went to middle school in Woodbridge and high school at JFK in Sacramento.  I entered the Army at the age of 18.  I served in Operation Desert Shield/Desert Storm and had a profound experience of Christ and was baptized.  After returning from the War, I entered the RCIA program at Holy Family Parish, Citrus Heights.  After a short period of discernment, I entered the seminary with the Legionaries of Christ.  I did my seminary studies in Connecticut and Rome.  As a religious and later a priest, I did missionary work in Latin America for ten years (seven in Argentina and three in Mexico). 
I began serving in the Diocese of Sacramento in 2011.  My assignments have been the following:  Our Lady of Guadalupe, St. Joseph (Sacramento), St. John Vianney, St. Peter (Dixon) and St. Peter and All Hallows.  My last assignment was Vicar General and Vicar for Clergy.  I feel profoundly blessed in my vocation and to be able to serve at such a wonderful community as Good Shepherd Parish and St. Elizabeth Ann Seton School.  I have the firm conviction that God's Providence continues to guide every step of my life and his plans are always those of growth: "All things happen for the good of those who love God" (Rom 8:28). 
In this time of uncertainty be assured of my prayers for you.  Please reach out if we can assist you in any way.  I discovered this quote from St. Francis De Sales which gave me consolation during the war and still does today:
"Do not look forward in fear to the changes in life; rather, look to them with full hope that as they arise, God, whose very own you are, will lead you safely through all things; and when you cannot stand it, God will carry you in His arms.  Do not fear what may happen tomorrow; the same understanding Father who cares for you today will take care of you then and every day.  He will either shield you from suffering or will give you unfailing strength to bear it. Be at peace, and put aside all anxious thoughts and imaginations."
Rev. Julius Kiogora Kaburu
Parochial Vicar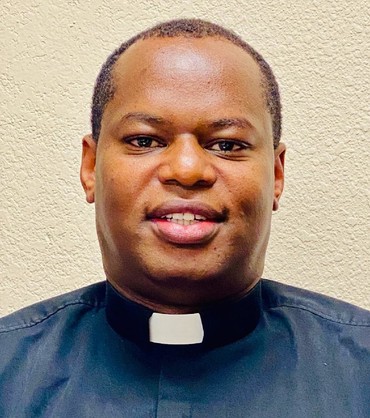 Father Julius Kiogora Kaburu was born on March 1,1980 at Mikumbune Parish, Meru County, Catholic Diocese of Meru, Kenya. He is the eldest child in his family and has two brothers and one sister.
On June 20, 1993, when he was in sixth grade, he attended the ordination for Fr. Simon Kithinji at St. Pius X Seminary in Nkubu. The ceremony was very colorful and it influenced his decision to become a priest. He considered the event to be the turning point in his life.
After high school, he joined the Mary's Molo Seminary for priesthood formation. Later, he joined Christ The King Seminary in Nyeri, Kenya, where he studied  philosophy and theology. He did his pastoral work at Cathedral Parish, St. Daniel Boys High School and St. Mary's Antubetwe Parish.
Father Julius was ordained a Roman Catholic Deacon on June 5, 2010, and a Roman Catholic Priest on December 18, 2016.
Prior to coming Good Shepherd, he served as Parochial Vicar at St. Joseph Parish in Lincoln and three parishes in his native Kenya.
He is very happy to be working in our parish as the Parochial Vicar serving the people of God, spreading the gospel to all the corners of the world, as our Lord Jesus Christ mandates.
He thanks his Bishop Rt. Rev. Salesius Mugambi and Bishop Rt. Rev. Jaime Soto, for the opportunity to serve the people of Good Shepherd Parish .