Rev. Michael Vaughan
Rev. Julius Kiogora Kaburu
Parochial Vicar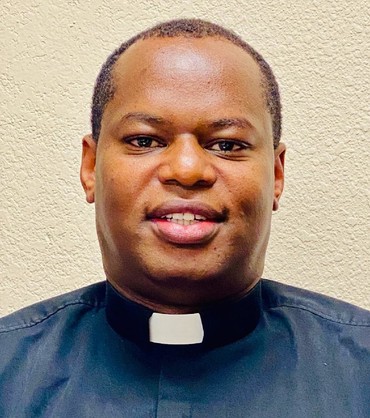 Father Julius Kiogora Kaburu was born on March 1,1980 at Mikumbune Parish, Meru County, Catholic Diocese of Meru, Kenya. He is the eldest child in his family and has two brothers and one sister.
On June 20, 1993, when he was in sixth grade, he attended the ordination for Fr. Simon Kithinji at St. Pius X Seminary in Nkubu. The ceremony was very colorful and it influenced his decision to become a priest. He considered the event to be the turning point in his life.
After high school, he joined the Mary's Molo Seminary for priesthood formation. Later, he joined Christ The King Seminary in Nyeri, Kenya, where he studied  philosophy and theology. He did his pastoral work at Cathedral Parish, St. Daniel Boys High School and St. Mary's Antubetwe Parish.
Father Julius was ordained a Roman Catholic Deacon on June 5, 2010, and a Roman Catholic Priest on December 18, 2016.
Prior to coming Good Shepherd, he served as Parochial Vicar at St. Joseph Parish in Lincoln and three parishes in his native Kenya.
He is very happy to be working in our parish as the Parochial Vicar serving the people of God, spreading the gospel to all the corners of the world, as our Lord Jesus Christ mandates.
He thanks his Bishop Rt. Rev. Salesius Mugambi and Bishop Rt. Rev. Jaime Soto, for the opportunity to serve the people of Good Shepherd Parish .