Rev. Michael Vaughan
Pastor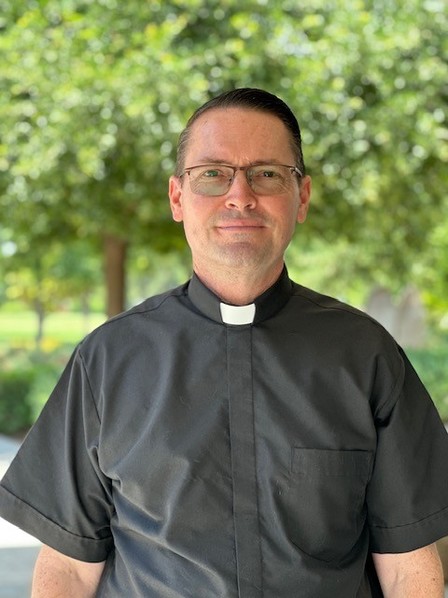 fathermichaelvaughan@gmail.com
Allow me to present myself.  My name is Fr. Michael Vaughan and I am a convert to the Catholic Faith.  I was born in Newport Beach, CA in 1969.  I moved to Lodi for elementary school, went to middle school in Woodbridge and high school at JFK in Sacramento.  I entered the Army at the age of 18.  I served in Operation Desert Shield/Desert Storm and had a profound experience of Christ and was baptized.  After returning from the War, I entered the RCIA program at Holy Family Parish, Citrus Heights.  After a short period of discernment, I entered the seminary with the Legionaries of Christ.  I did my seminary studies in Connecticut and Rome.  As a religious and later a priest, I did missionary work in Latin America for ten years (seven in Argentina and three in Mexico). 
I began serving in the Diocese of Sacramento in 2011.  My assignments have been the following:  Our Lady of Guadalupe, St. Joseph (Sacramento), St. John Vianney, St. Peter (Dixon) and St. Peter and All Hallows.  My last assignment was Vicar General and Vicar for Clergy.  I feel profoundly blessed in my vocation and to be able to serve at such a wonderful community as Good Shepherd Parish and St. Elizabeth Ann Seton School.  I have the firm conviction that God's Providence continues to guide every step of my life and his plans are always those of growth: "All things happen for the good of those who love God" (Rom 8:28). 
In this time of uncertainty be assured of my prayers for you.  Please reach out if we can assist you in any way.  I discovered this quote from St. Francis De Sales which gave me consolation during the war and still does today:
"Do not look forward in fear to the changes in life; rather, look to them with full hope that as they arise, God, whose very own you are, will lead you safely through all things; and when you cannot stand it, God will carry you in His arms.  Do not fear what may happen tomorrow; the same understanding Father who cares for you today will take care of you then and every day.  He will either shield you from suffering or will give you unfailing strength to bear it. Be at peace, and put aside all anxious thoughts and imaginations."
Rev. Abraham Chiu
Parochial Vicar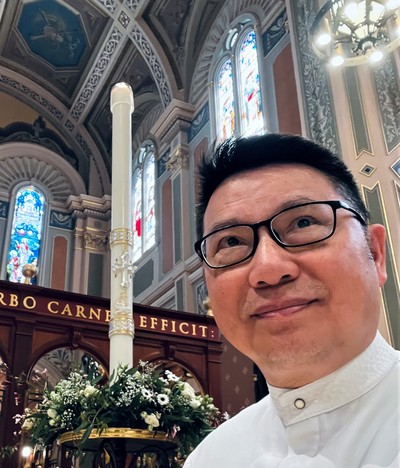 fr.act.ofm@gmail.com
Story of Growing Up
I was born in 1958 and raised in a typical Chinese family without any Christian background in Hong Kong. I was baptized as a Catholic when I was fourteen years old in Mother of Good Counsel Church. I became very active in religious activities both in parish and school; for instance, the Legion of Mary and the Catholic Students' Association, the lectors' group as well as the organist for Sunday masses.
The commitment in pastoral services enlightened me to love Christ and his church fervently even though I was still a teenager. As a matter of fact, the pastoral care from all spiritual directors nurtured me to be a mature Catholic.
Because of working for three years and eight months, I could afford to go for my pilgrimages to Fatima and Lourdes in 1981.
Journey of Vocation
My vocation sprouted in Lourdes. The amazing religious experiences motivated me to go a further step toward repentance. After coming back to Hong Kong, I decided to follow Jesus as a priest.
Pastoral Assignment
I was ordained to my priesthood on September 9, 1990. Then I was assigned to minister to St. Bonaventure Church as the parochial vicar. After completing the two years of STL at Louvain Catholic University (1992 – 1994), I came back to Hong Kong as the vicar again and founded Bonaventure Youth Center and Bonaventure Counseling Center. These two work spots attracted many non-Catholics to come to our church.
I had been the professor of the scriptures and theology in all major seminaries in China. Moreover, I was also the formator in Jilin Catholic Seminary and the Central Seminary of Manila.
I took my sabbatical at the Catholic University of America from 1998-1999. Afterwards, I was assigned to serve the Chinese communities both in the east and the west of the USA for sixteen years. In addition to ministering to the Chinese communities in various states, I also earned two doctorates respectively from Episcopal Divinity School (Doctor of Ministry) and Fordham University (PhD of Religious Education). Finally, I successfully became a naturalized citizen of the USA in 2014.
Good Shepherd
After two years as the parochial vicar of St. John the Evangelist Church, the chaplain to the Sacramento Chinese Catholic Community, and the mentor of seminarian candidate; Bishop Jaime assigned me to carry on my ministry in Good Shepherd Parish. I am ready to cooperate with everyone in order to build up the kingdom of God at Good Shepherd Parish and St. Elizabeth Ann Seton School.